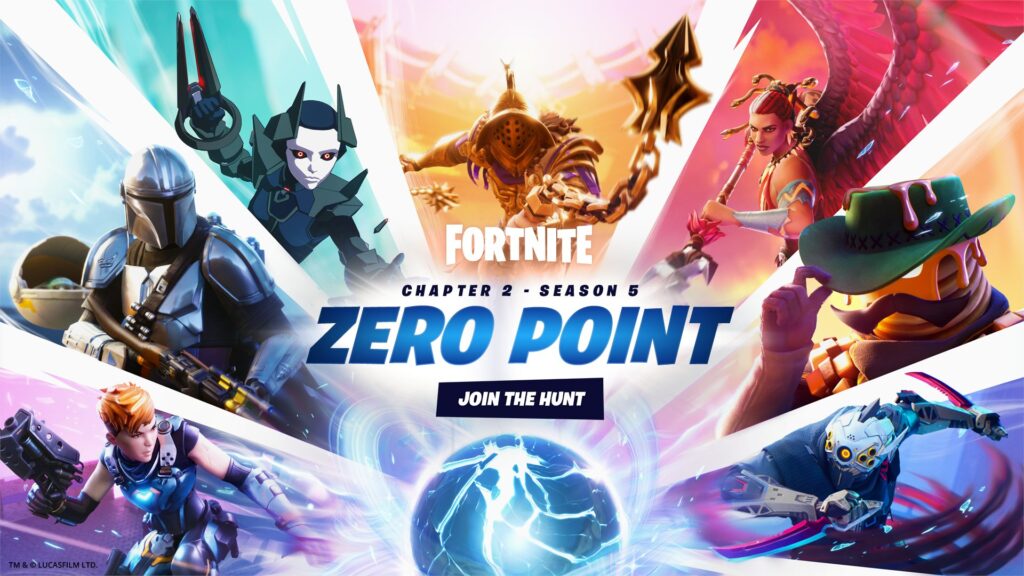 ⭐ Games that receive this star have a score of 95% or above. This is purely from a game design perspective and is not in any way related to our morality evaluation.
Note: Fortnite is continually updated, often on a weekly basis. Because of this, catholicgamereviews.com tries to release a new review every in-game season. Each review will be based on the start of each season, but since new content is added throughout you may encounter things not mentioned in this review. I only cover the much more popular Battle Royale gamemode, but I have played a lot of the Save The World mode and can say most morality notices are pretty similar across the two. I do not cover Fortnite creative mode.
Three years.
Three years of playing Fortnite nearly daily, and I'm STILL not bored of this game. I often wonder why after so many years, I still fail to find another multiplayer shooter that I find more enjoyable than Fortnite. I think there are likely many factors – such as it's accessibility, invigorating gameplay, or collaborations with other franchises. But I think the one most important factor in my long-term enjoyment has been the season updates and events. These always bring awesome new cosmetics, new additions to the lore, redesigns of the map and significant changes in gameplay. Quite often these events and new seasons attract such a big crowd that it actually causes third-party services trouble – such as Twitter, Xbox live and most often, Twitch, due to the high volume of users going online to discuss or stream the happenings in the Fortnite universe. This season was no different.
On December 1, 2020, over 15 million players (including myself) joined Fortnite in the same one-hour period to help stop galactus from getting to the "zero point" (a hidden energy source at the center of the Fortnite map). Working together with Tony Stark, Wolverine and other Marvel superheroes, they prevented doomsday and saved their respective universe. They were then presented with a live countdown screen reading "Fortnite Season 5: Begins in 7 hours, 39 minutes and 28 seconds." As usual this helped greatly build up hype for the next season and hit Twitch's servers hard, resulting in some pages and VODs not loading properly. I went to bed that night happy knowing that while I was asleep, that timer would hit zero and the next season of my favorite game would be underway.

Now, I won't get into too much detail but essentially the current lore behind the game is that the Fortnite map/island is in some sort of controlled universe or simulation, being used by an organization to their advantage. One complaint that has been common throughout the last couple seasons is that Fortnite has been too focused on their collaborations with other franchises and giving less attention and progression to the lore of the game. I am very much pleased to say that Epic Games most definitely heard this feedback because with this season they delivered.
The first thing you are met with when booting up the game this time is a cinematic trailer featuring Jonsey, an agent for whatever organization controls the "loop" (the Fortnite island). He explains to somebody over the telephone that although Galactus was successfully stopped, the zero point remains exposed. He then heads straight into the zero point to ensure that no one is able to escape from the loop. You are then met with the Battle Pass trailer showcasing that he's hired some bounty hunters to help him with the job – one of which is the one and only Mandalorian from Star Wars, the first skin in the season's pass. Yes, even though we have another collaboration here, you can trust me that the Mandalorian is simply one of the many bounty hunters hired which make up the rest of the Battle Pass – and aside from him they are all original Fortnite characters.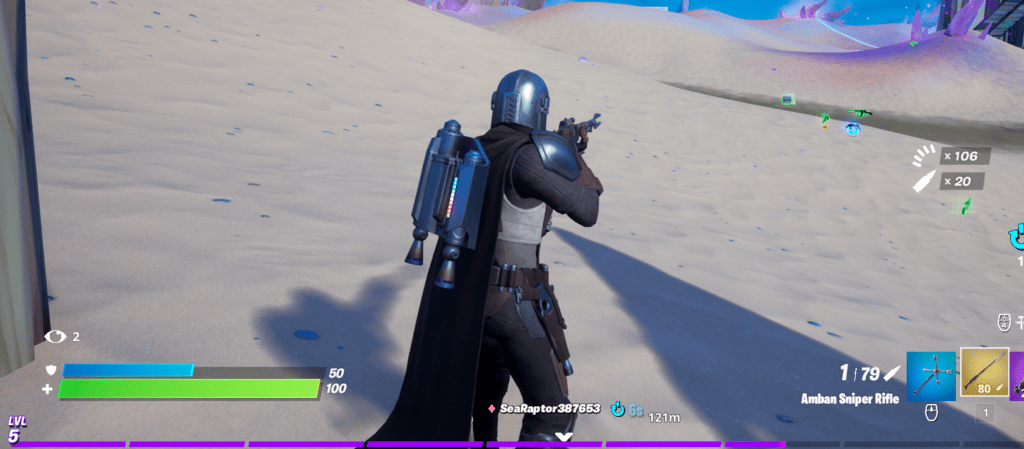 The role of the bounty hunters in the season's gameplay is that you can find them around the map as NPCs and purchase weapons, upgrades, and intel (like revealing locations of chests) while also being offered to complete tasks to earn gold, which is the currency you use to trade with them in the first place. I think the reason Epic Games decided to try this system out is because there has been an issue in the game for a while now where about 60% of the lobby is dead within the first 2 minutes, leaving a significant period in the middle of each game generally devoid of any action. Having currency like this gives players something to do in this phase, rather than just running around randomly without finding anything of much use. I'm not sure if this exact system should/will be here to stay but I can at least say I have been enjoying it so far. One of the most frequent tasks you will undertake for the NPCs is to take out a bounty on another player. Accepting the bounty will reveal a circle on the map in which the enemy is located, and you have about 5 minutes to eliminate the player to get your reward of gold. I have found this to be quite a fun thing to do in the middle of a game, as hunting down a player takes a significant amount of time anyway and helps fill up that boring time gap which has been plaguing Fortnite for quite a while now.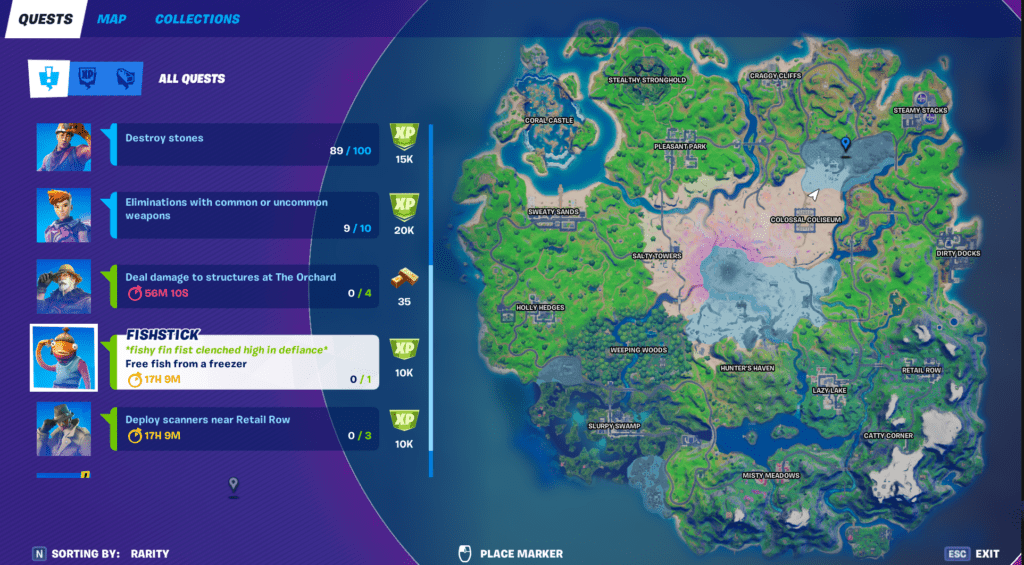 This season there is not much to update on the morality side; the same warnings from the previous season still apply and are listed down below as usual. Once again, if you would like to check out a comprehensive review of the constant aspects of Fortnite's gameplay that do not change from season to season, check out my original Fortnite review here.

Want to see my reaction to the end of Season 4 event? It's on our youtube channel, and you can watch it here!
Scoring – 96% ⭐(EXCELLENT SHOOTER/BATTLE ROYALE GAME)
Story: 4/5
Graphics: 5/5
Controls: 5/5
Gameplay: 5/5
Replayability: 5/5*
*Thanks to the increased emphasis on the story, I have added it as a category while raising graphics to a 5/5 thanks to Fortnite's RTX update
Morality/Parental Warnings
Language: Completely clean aside from select concerts/events, although there is voice and text chat in some places. These can be turned off, however.
Sex/Nudity: Many of the female skins have revealing clothing, select male skins don't have a shirt
Occult: Some skins themed after demons/the devil, wizards & witches, a few Marvel skins are referred to as gods
Violence: Guns are realistic, but no blood/grotesque sounds present at all
Consumerism: Lots of expensive micro transactions.