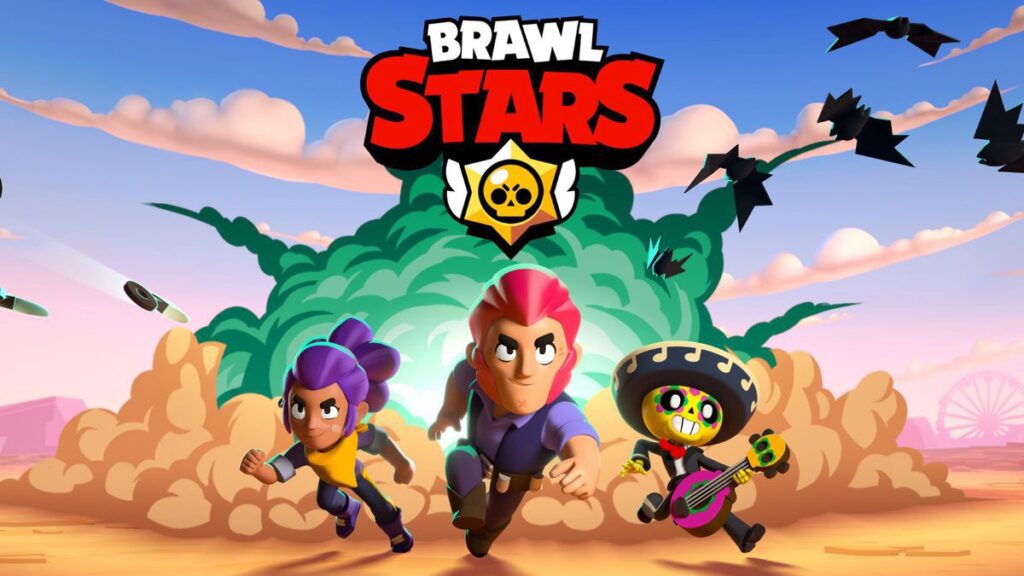 Have you ever played a Supercell game?
Because you probably have. In fact, their games have been downloaded over a BILLION times in the past decade. Although that doesn't mean a 1/7th of the world's population has played their games when accounting for redownloads and people playing several of their 5 titles, it is still clear that hundreds of millions of people have been impacted by the work of this 300-employee company.
While Supercells' most popular game is likely Clash of Clans, which I have been playing on and off since early 2013 (ID is #GGQJCU8V if you would like to check out my village) the one I am going to be reviewing today is their most recently released game, Brawl Stars.
I have been playing Brawl Stars about daily after it's global release back in December of 2018 (And similarly to Clash of Clans if you want to check out my profile my ID is #RY9U2JRR.) As expected from Supercell, it is free to download but contains in-app purchases. However, what sparked my interest in the game the most was a review on the App Store praising the game for it's "fair" free-to-play progression. For those that aren't aware, free-to-play games usually involve the player earning small amounts of resources through whatever gameplay is present, which is then in turn used to upgrade whatever sorts of things you use in the game, such as increasing the damage output of your character or weapon. The rewards are usually small enough to encourage players to spend real money in order to obtain them faster but big enough that players feel they are getting something useful each time they play.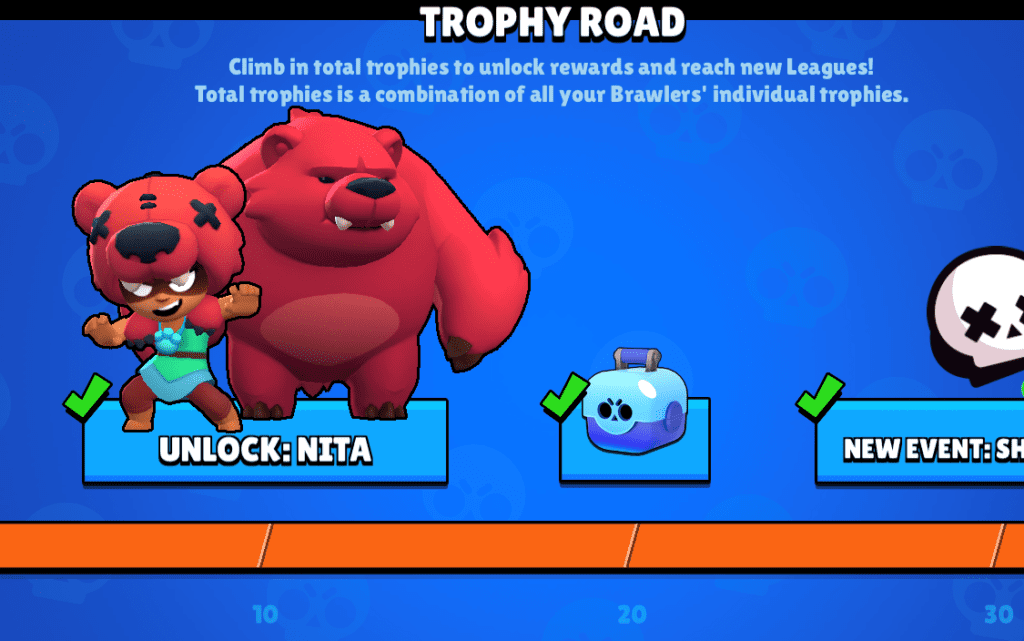 Now, while I wouldn't use the word "fair" to describe it I do have to say the free-to-play route is aright. First of all, the things you upgrade with resources in this game are your characters, aka "brawlers" (I will talk about the resources themselves later on.) You only play with one brawler at a time which means if you focus spending your resources on a few specific brawlers you can get them maxed out relatively easily and be able use them on an even playing field with everyone else at the highest trophy level. Yes, just like in Clash of Clans and Clash Royale you earn trophies for winning battles. They are counted individually for each brawler which determines your matchmaking but also add up to a total trophy count, which pretty much does nothing aside from earn you rewards in the "trophy road". Finally, there is a "Brawl Pass" purchasable every two months which gives special rewards to those who purchase the premium version for about $10 worth of "gems" (a virtual currency). However, since all players earn a free $5 worth of gems per season, this means that as long as you save your gems, every other season you can get the premium pass for free without spending a dime! Not too shabby.

Still, as I would like to note, Supercell is Supercell and that means Brawl Stars shoves microtransactions at you quite often, with several different phycological tactics to get you to buy. There is of course the social pressure, especially with kids, to have cool skins (some of which can be as expensive as $20) while the progression system consists primarily of "Brawl boxes" which, while some are given as a reward for battling and completing quests… you also have the option to purchase for real money. This is, straight up, gambling and therefore an effort to get you to spend money on stuff you don't want. Considering that along with the many other tricks they use, please, please be careful about this aspect of the game, and double careful if you struggle with spending money properly. It can easily lead to sin if you don't watch yourself.
Issues with monetization aside, let's discuss what you do with the resources. These boxes not only give you a chance to unlock a new brawler but also dish out power points and gold which are used to upgrade your brawler's "power level" up to level 9. "Gadgets" can be unlocked after reaching power level 7 while "Star powers" are able to be unlocked once you have hit level 9. Gadgets are special abilities unique to each brawler that are activated on command via a button while star powers are more like helpful buffs that last the entirety of the each match, such as increasing your brawler's movement speed.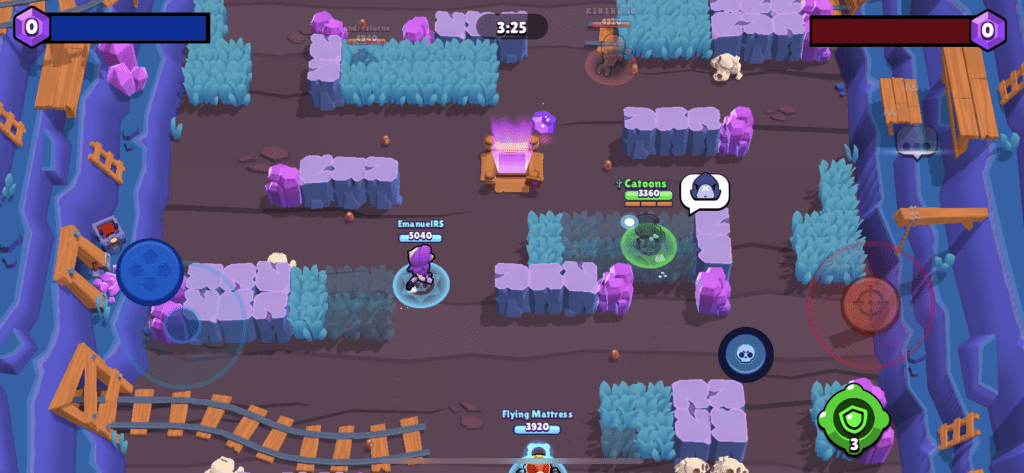 Wait did I say "match"? Once again this game is similar to most of Supercell's other games in the aspect that the gameplay consists mainly of player-to-player combat. From fighting alone in a 10-player battle royale or together in a 3v3, Brawl Stars offers many different ways to battle, all of which last 2 1/2 minutes at the most. They have been adding new game modes as time goes on and the ones they already have still don't feel stale after 2 long years. Supercell has always been good at creating games with a ton of replayability value, and it shows.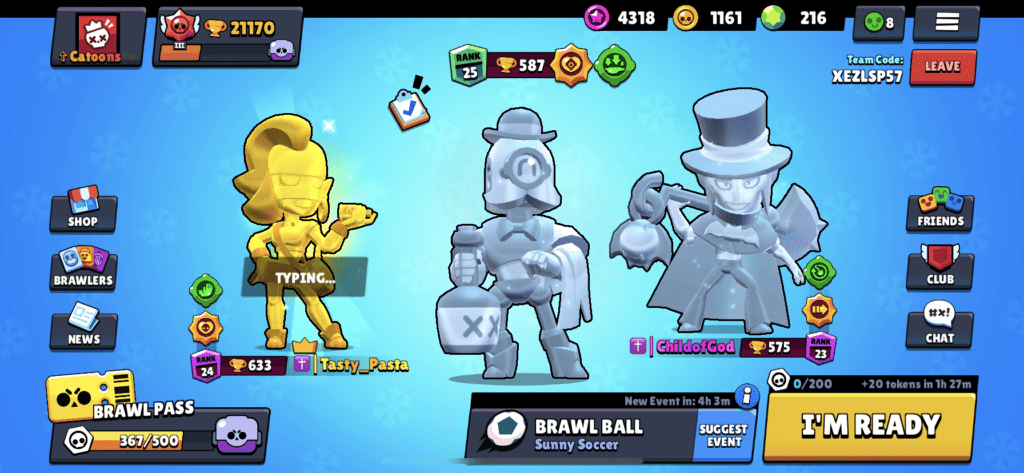 Now, since the game is played with people online this means you can interact and chat with strangers. For the parents that are worried what children might see I can tell you that great measures have been taken to avoid swears or offensive phrases appearing in text. There is a profanity filter that cannot be turned off and filters out more than you would expect (to an annoying degree, in fact). Of course, this is not perfect and there is a chance you will see some players who have come up with usernames or phrases that beat the filter. While you can't remove usernames you can enjoy all of the game's content without messaging other players or joining a "club" (essentially a group of up to 100 people that can chat together and invite each other to games.) Still, if you are comfortable I would recommend trying to find a nice club you trust as you may meet some interesting people. I myself am a member of one of the top US Christian clubs, simply titled "Christ." I have met a ton of skillful, cool people and would like to give a little shout out to my friends Tasty_Pasta and ChildofGod! You guys are awesome. 😃
Well, I need to stop rambling eventually. I'll close it out like usual with a quick discussion about morality/parental warnings. First off, all the brawlers have different themes and a few are themed around occult or magic, including a brawler who throws tarot cards and a shadowy black hole. Some of the brawlers use guns but as this game is designed with young children in mind both the guns and magic aspect are very cartoony and toned down. The brawler "Emz" occasionally uses the phrase "Oh my God!". Also, the brawler "Jacky" is a potty mouth whose voice lines are always censored out with a drill sound. Funny for most people but may be of concern to some parents. Finally, since it is a free-to-play game it does contain potentially addictive aspects and microtransactions. Try not to let your credit card run too wild.
All in all, Brawl Stars is a very fun game that has a lot of potential for community building and long-term commitment. If you want to get into a game at least somewhat competitively but don't have a lot of time, Brawl Stars is a good option. Same goes if you are looking for a quick casual experience as well.
Scoring: 90%
Gameplay: 4/5
Replayability: 5/5
Free-to-play friendliness: 4/5
Graphics: 5/5 (Rated so high when considering the incredibly small app size and how well it runs, even on old devices)
Morality/Parental Warnings
Accurate as of January 2021
Sex/Nudity: Some characters might have slightly revealing outfits but nothing crazy. There are skins that have male characters in female outfits but this is solely for humor.
Language: Aside from OMG the only noticeable thing is whatever slips through the player profanity filter in chat rooms/usernames
Magic/Occult: Some characters use cartoony magic, one uses cartoony tarot cards & is themed after fortune telling, some are themed after false religion
Violence: Cartoony fighting with guns, explosions and such

Consumerism/Addiction: Lots of microtransactions with gameplay designed to be addicting and get you to log on daily.