To this day, my review of Trails of Cold Steel I and II is probably my favorite article that I've written so far. Not only did it give me a chance to talk about a largely obscure series with fresh eyes, but it also helped me learn how to articulate the great, grievous, and godly within video games much better. So naturally when time and wallet allowed, I was determined to see the tale of Erebonia to the end, especially if I could get it done before the great wave of The Legend of Heroes games set to release both this fall and in 2023. Did this train pull into the station safe and sound after a new 130 hour commute? Let us see!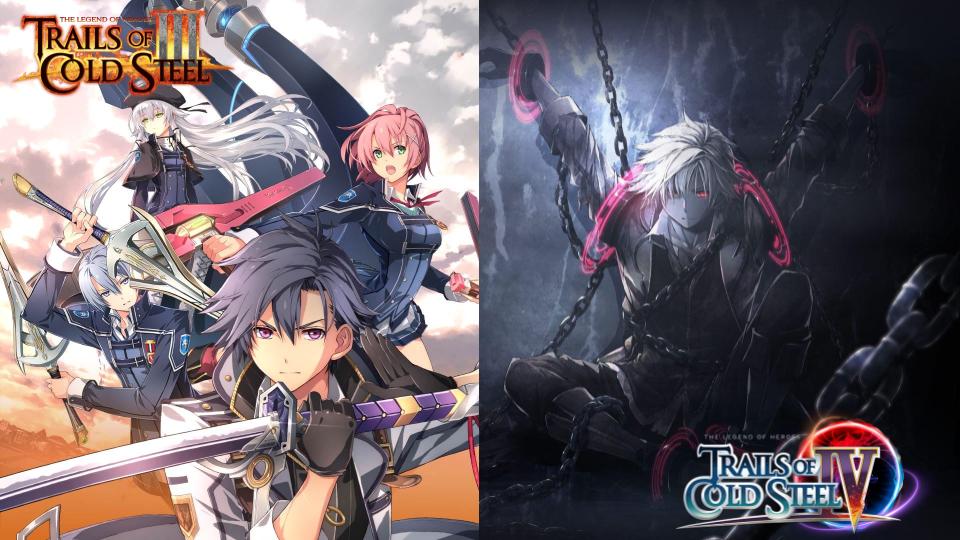 Developed by Nihon Falcom, published by NIS America, and released in 2019 and 2020, The Legend of Heroes: Trails of Cold Steel III and IV are anime role playing games released for Playstation 4 as well as PC and Nintendo Switch at later dates. Its premise revolves around the new adventures of Thors Military Academy and their struggle to set Erebonia right as crazy conspiracies rear their heads. Players interact with the games using largely the same mechanics of turn based combat, missions, relationships, and a ton of reading. Note that this review used the Steam versions of the games.
Before we move forward I would once again like to address the particular circumstances of this review. Trails of Cold steel III and IV are technically the eighth and ninth entries in the greater Trails series, and this particular series is known for its interconnected storytelling which amplifies the emotional journey. I am reviewing these games after having only played the first two Cold Steel games due to both personal interest and circumstances of the series' current localization. However, I would like to preface this review by saying that while the first two games in the quadrilogy actually work decently as a stand alone narrative, the latter two games have no problem referencing events and lore from previous entries as major elements of its own story. If you play through these two games without the previous ones for context the story can still be followed just fine, but characters will drop major revelations in the story that spoil previous events and you might not get much out of otherwise big returning faces. Thankfully the old lore never gets intrusive to the point where the games stop being about their new characters, but it's worth mentioning in case you care. Also, this review is going to assume you've played Trails of Cold Steel I and II, so while I won't recap those games I will refer to elements that directly matter for context. You have been warned.
Trails of Cold Steel III
The tale of Trails of Cold Steel III picks up a year after the events of Cold Steel II and once again follows Rean Schwarzer. After having recently graduated from Thors in a harrowing semester that saw him balancing schoolwork with carrying out government operations as a national puppet-hero, the Ashen Chevalier takes it upon himself to become the teacher of a new Class VII at the new Thors Branch Campus in Leeves. Having the story reset back to a school setting like this definitely felt pretty forced upon first impression, especially considering the many mechanical and structural parallels to the first Trails of Cold Steel.
However in some ways this feeling of artificiality might actually be the point. The Branch Campus is almost unnervingly state of the art and sterile in its architecture, the mystical abandoned school house dungeon has been functionally replaced by a combat training facility, and the dirt sports field is replaced by a blacktop among many other elements. Almost everything about Leeves feeds back into one simple idea: this is a highly monitored government project designed to take all of the Empire's troublesome and undesirable officers and students, and put them in an environment where they can be contained and even set to work. The amount of unease the opening of Trails of Cold Steel III was able to generate was honestly impressive, and instantly helped me to connect with Rean's current mindset despite the year that happened off-screen.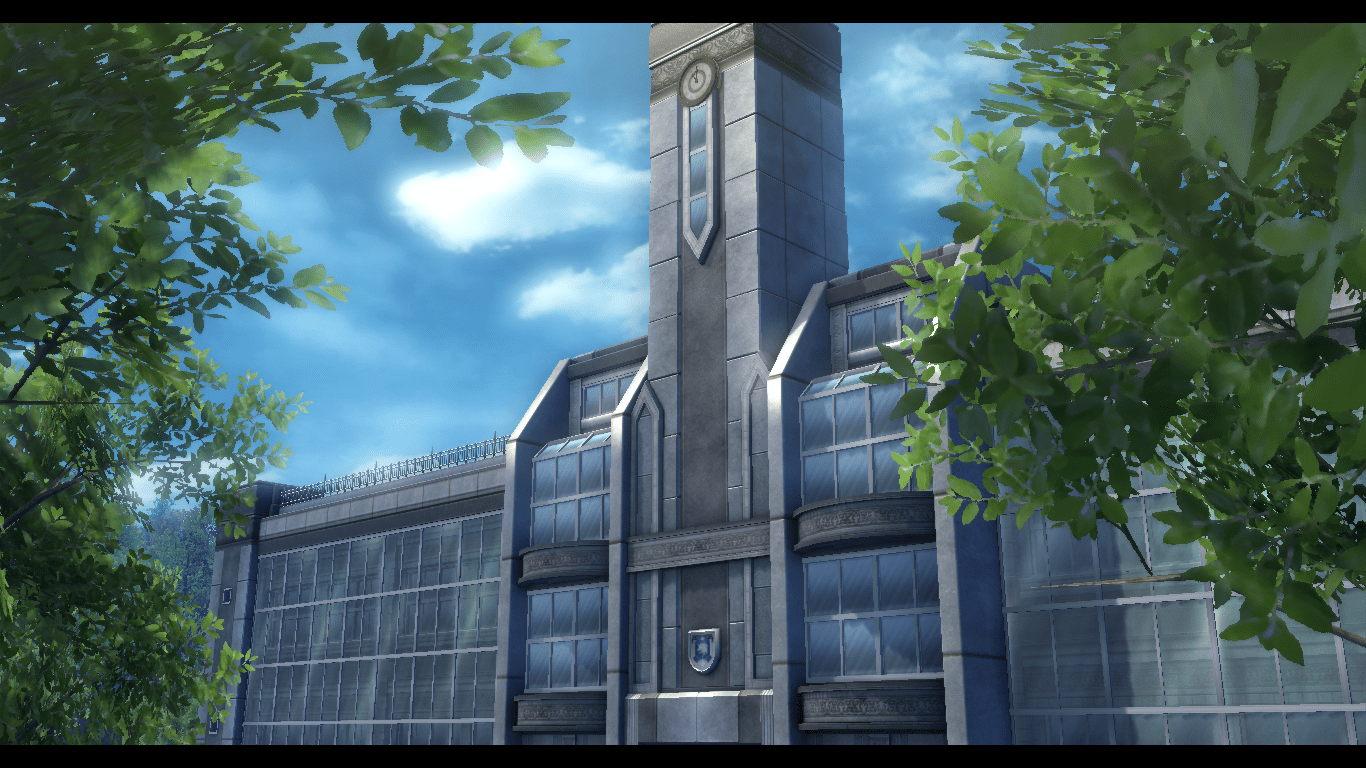 Beyond the initial setup, the game mostly focuses on a string of secret missions Class VII undertakes against the Society of Ouroboros, masquerading as branch campus 'field exercises'. On the whole the plot does a good job of creating intrigue and exploring interesting counterpoints against some of the social and economic ideas of the first two games. The smaller cast of main characters in this entry also allows the game to better flesh out the individual members of New Class VII, although this opportunity was squandered a bit in execution. Don't get me wrong, Kurt Vander and Juna Crawford are some of the most well realized and interesting characters I've seen in a JRPG, with Kurt having a relatable arc about self-confidence in the face of his family's legacy and Juna being a likable young lady who provides a ton of juicy worldbuilding about how the citizens of Crossbell are doing after its annexation.
But on the other hand, Altina Orion's character development is an unoriginal arc about "robot girl feeling things now" and the progression of her arc lacks any overt turning points, meaning the shift in her character just… happens. It also doesn't help that the way characters excuse her actions during the civil war far too readily combined with her variety of talents causes her to feel like a Mary Sue, with the plot doing literally everything in its power to make sure you know that she is now the group's little darling with zero bad blood with anybody. Additionally, Ash Carbide and Musse Egret suffer from joining the party at the halfway point, meaning what development they do get feels rather unimpactful and they are pretty much stock archetypes from beginning to end, which is frustrating because you just know something interesting is going on with them but hardly any of it pays off until the sequel. Additionally, the other members of the original Class VII make returns throughout the story but they are very uneven in execution and shows the long term issues of having such a large main cast in those other titles. In a class of nine different students of varying popularity I recognize that Falcom can't please everybody, but that doesn't entirely dampen the sting I feel at just how sidelined Gaius Worzel was considering my actions in the first two games pretty much made him Rean's best friend, and our man of Nord isn't the only victim either.
In the end though, none of these complaints have anything on the one problem so pervasive throughout Trails of Cold Steel III that it single handedly takes the game's narrative from possibly better than the first game's, straight to being the most infuriating plot to sit through out of all four games by far. This of course being, the overuse of sexual humor. I cannot even begin to articulate how obsessed this game is with padding out its cutscenes with a character taking literally anything out of context and accusing Rean of being scandalous for the sake of laughs. To say nothing of the fact the Musse's whole character in Cold Steel III is that she flirts inappropriately at all times and naught else. This problem is at its most extreme with the game's inclusion of Rean's sister, Elise Schwarzer. Rean and Elise have a surprisingly touching sibling bond in the first two games, even despite Alfin's incessant teasing of Elise making things a little weird, and her inclusion in III throws all of it away just to make 'forbidden sibling romance' jokes for an hour straight. It's pure and utter madness! Comic relief is a necessary part of storytelling and all, but this was just uncomfortable and annoying beyond belief. In summary, the game's story did manage to have genuinely interesting stuff that I was willing to see through, but boy is it insufferable trying to sit through a script too dumb to realize that its one joke isn't funny in the slightest.
Trails of Cold Steel III's combat system sees the return of the positional turn-based action of the previous entries, but with a few additions which happily expand the mechanics in interesting ways. It still retains the very momentum based mechanics from before, but there have been a few equalizers put into play to help swing things in your favor when things go south. The most immediate change is the addition of the Break Gauge to enemies, which is a bar that decreases with each hit and puts the enemy into a special 'break state' when fully depleted, allowing the player to deal more damage and get free 'unbalance' hits against enemies. Different kinds of attacks, particularly different Crafts, deal different amounts of break damage, so at times the player will weigh between a move with more raw power, or one that will set up for a break better. While hardcore players will testify that a one-sided mechanic like this is utterly game-breaking and leads to some incredibly cheezy strategies, as a more casual player I think this mechanic is a great addition which adds a new layer of tension to the combat. I distinctly remember being in situations where it looked as though the enemies were about to overrun me, but I bravely pressed the attack hard enough that I was able to put them into the break state and turned the whole fight around. It feels really satisfying to pull off.
The other main new combat mechanic is the Brave Order system, which allows characters to apply a passive buff, offensive or defensive, over a number of the player's turns at the cost of Brave Points (BP). Hardcore players also see specific Orders as being wildly overtuned, and I cannot say I disagree with them there. That said, I think this is a good mechanic both for its simplicity and the way it expands on pre-existing elements of Cold Steel's systems. The BP gauge was always very limited in the first two titles, governing only your ability to unleash more powerful followup attacks and being a resource only in a linear sense. Brave Orders give BP new uses which force the player to decide whether to use it on follow-up attacks or passive buffs, and I appreciated the extra strategy this brought to the table. Overall I thought that Trails of Cold Steel III's battles hit a nice level of difficulty compared to the previous entries' extremes, with the bulk of the game being manageable but not mindless, and the final level being appropriately difficult. As one final note here, the Divine Knight battles make their return in this entry, and have thankfully evolved into a minigame-esque battle system that isn't popped wide open by obvious exploits thanks to the addition of more controllable battle members.
The Quartz customization system also makes its return and goes with the first Cold Steel's slot unlock format. Brand new to the system is the Sub-Master Quartz slot, which allows you place a Master Quartz equipped by another party member into a sub slot which provides all of the extra Arts and a little bit of the stats and passives to the character equipping it. This expands the potential build variety each character can take pretty significantly, especially considering this allows you to spend less of your main Quartz slots on Arts and more on stats and passives, really helping to push the power and versatility of physical attackers. No real downsides here.
As for the exploration side of things, Trails of Cold Steel III's return to the school setting brings with it the original structure, with a cadence of school at Leeves, field study in another area, repeat until the credits roll. Quests are still of about the same quality as before, although there were fewer quests that led to interesting long-term changes. Generally speaking I found Leeves to be a step down from Trista, with fewer characters I felt compelled to engage with and see more of. Western Erebonia on the other hand though was an absolute treat, with the new cities and towns that you visit being some of the best in the quadrilogy. And best of all, you travel by train again! …Look it was a real disappointment in Cold Steel II, ok? The dungeons in this game do not quite hit the level of fun as Cold Steel II but remain more complex and engaging than the first game, with a special mention going to the dungeons around the middle of the adventure. A new card mini game was added called Vantage Masters which is actually pretty involved, and you can seriously sink some time hunting for cards to deck-build with and playing matches. It's basically a trading card game within the game! And finally, bonding events remain a key part of adding depth to the characters, though the relationship building in this entry is much less committal and no extra developments really happen if you seriously commit to spending time with any one character. You can now get bonus scenes with more than one character which is nice, but they aren't anywhere near the level of emotion that the previous games got.
Finally I will discuss the game's presentation, which will also cover Cold Steel IV as once again the level of quality is pretty much identical. The new graphics for the second half of the Erebonia arc are noticeably improved. The rather polygonal (if charming) models of the first half of the quadrilogy have been traded in for nicer, smoother models that better fit modern graphical standards. Animations are still generally stiff and repetitive, though given the length of these games it's not unexpected. Perhaps the greatest improvement from the other titles is the absolutely stellar upgrades on the Arts and Crafts used in battle. Animations are swift, particle effects are bold and convincing, and each one lands with a satisfying impact. Really the only disappointment with the presentation is the voice acting, because while the vocal performances themselves are perfectly fine, the quantity of voiced dialogue has been severely cut back from the previous entries. While I'm sure the price of hiring these actors in for all that dialogue is what forced the cuts, I can't help feeling that the overall product is weakened due to the amount that the acting really added to it. This is especially noticeable in a number of scenes in both III and IV where a single character in the scene has voice acting and is really playing up an important moment but then the other characters just have their written text, and it feels wrong to not have those strong emotions met in kind.
Thankfully those emotions at least managed to get redirected into the soundtrack, because hoo boy – I thought the first half of the Erebonia Arc had great music, but Cold Steel III and IV just take it so much further. Every stroke of the piano and every scrub of the violin is absolutely bleeding with reverent emotion that draws you into the world and refuses to let go, from the sublime town and field themes to the boppin' boss fight anthems. Things Entrusted, Step Ahead, Ordis the Azure Port Town, Twilight Green Passage, Belief -SAV- … there is so much good music in these games!
So on the whole, while Trails of Cold Steel III has plenty of points for me to complain about, it's hard not to be impressed by the generally improved combat, delightful new locations, half of an excellent main cast, and story which is surprisingly engaging once you claw past the eighty-seventh awful romantic tension joke. I had a great time returning to Class VII, but as you may have noticed already there's still another game to talk about. End your game on unfinished business, and I'm gonna go find out how it all plays out. But yet again… things seem to have gone literally off the rails… kinda.
Trails of Cold Steel IV
Trails of Cold Steel IV takes place roughly two weeks after the climax of the previous game. It's hard to talk about the set up without spoiling a little bit of the previous entry, but let us just say that after THE INCIDENT, Rean is separated from his students as the Erebonian Empire barrels towards its most dire threat yet. At the start of the game, Juna, Kurt, and Altina set off on a journey to reunite with their instructor in hopes of finding a way to move forward. Regarding the overall quality of the story I would definitely say that it's not distinctly as meandering and frustrating as Cold Steel II was, but there's still plenty of problems I need to get into. To start with some positives though, as alluded to earlier Ash and Musse are finally given space to grow and become better characters. While Ash remains a distant fourth out of the members of New Class VII, Musse managed to finally reveal extra dimensions that put her just below Juna and Kurt overall, and I'm happy the character wasn't perpetually trapped in a bad gimmick. I also think that while the plot is very busy with many characters, including many I do not have proper context from previous games for, I appreciate the game's ability to use its large cast to emphasize the scale on which the events are playing out. I just wish this didn't also lead to a variety of scenes bloated with tons of characters crowded into the same room and kneecapping the pacing by obsessively making sure each character gets a line of text.
As for what's holding the story back, once again magic winds up being a frustrating plot device to bail out the heroes, and in general there are a lot of elements in the plot which happen to work in specific ways "because of the events going on". At this point I've just accepted the writers will be happy to let the 'plot witches' ferry the story along wherever they have little in the way of actual creative solutions after Cold Steel II, but that's not a resignation I make happily. If you've ever joked about why the Fellowship of the Ring didn't just fly to Mordor on Gandalf's eagle friends, the answer is than my man J.R.R. Tolkien also played the Cold Steel games and saw how unsatisfying it is for magic to constantly whisk the heroes away from danger. All things are best in moderation (except for prayer and charity).
What I really wanted to talk about though were two brand new issues to Cold Steel IV. The first of which has to do with a certain curse which takes center stage during the events of this story. The narrative claims that what the curse does is push already weak or corruptible people and drive them towards the worst possible versions of themselves, but what it winds up showing is characters more or less becoming completely different people depending on whether they are in the curse's thrall. It honestly comes across as the game being really uncomfortable with trying to declare one way or the other whether humanity or the curse is more at fault for the evils that play out, and this is a very noticeable issue when the curse is so prominent in the story. The second issue is that for as grand as the stakes are, Trails of Cold Steel IV thoroughly proves itself to be adverse to the idea of long-term consequences. You wanna know how many major characters (heroes and villains alike) die over the course of the quadrilogy? Give or take about a dozen to fifteen. You wanna know how many of those deaths actually stick by the end of the quadrilogy? If memory serves right, maybe half of them at best. Bringing characters back from the dead or faking their deaths doesn't have to suck as a plot point so long as it does something shocking to the status quo or serves some greater thematic point, but allowing characters to just die is very often simply a more powerful thing to do. Characters can find redemption in death, be forever remembered as martyrs, or serve as lamentable reminders of a character's failures among so many other things, but bringing them back just for the sake of having one cheaply earned tearful reunion scene after another is just that: a lazy way to get an emotional reaction out of the audience. This cast is already bursting at the seams with like, thirty-something characters, you can kill off a few of them for dramatic effect Falcom! To sum it all up, while I didn't think Trails of Cold Steel IV had the worst plot out of the quadrilogy, a host of questionable writing quirks clearly held it back from being one of the better ones.
The battle system remains relatively unchanged, with the effectiveness of break damage being toned down and Arts damage getting yet another buff among other minor tweaks. The most noticeable change is really just that the BP gauge now holds seven points instead of the traditional five, allowing them to adjust the economy of Brave Orders and open up further strategies surrounding BP. Where the real changes come in are in character customization and progression. The Quartz system once again uses the slot upgrade system from the second game, but the real big change is that you can now equip a Master Quartz to as many Sub-Quartz slots as you wish. The game also makes a habit of regularly increasing the level of your party members to account for an expected exp difference between your active and benched characters, and this combined with the aforementioned Quartz culminates in nothing less than a perfect storm. About halfway through the game I realized if I'm going to be gaining levels anyways, why waste time fighting regular enemies at all when I could just equip the Dunamis Master Quartz to all of my characters in the Sub-Master slot?
Thus I immediately turned all of my characters into nigh unstoppable powerhouses who casted Shining on themselves constantly to evade nearly all attacks that came our way, healed back HP with every single successful hit, and absolutely smothered the battlefield with resplendent cruciform crosses (yes, really) and holy swords raining from the heavens. Sure this didn't exactly work against every boss so easily, but for the most part I was able to play through the game as one giant boss rush. Even the one time I was significantly underleveled for the boss in question, lowering its difficulty enough times to eventually win handed out over ten levels worth of experience, and I pretty much avoided regular enemies entirely for most of the game. Heck, I barely even touched my regular Quartz loadouts because the strategy I found was just that good! This all might simply be a result of all the time I've cumulatively spent with this battle system over four games, but for my experience Trails of Cold Steel IV was the easiest of the quadrilogy by far.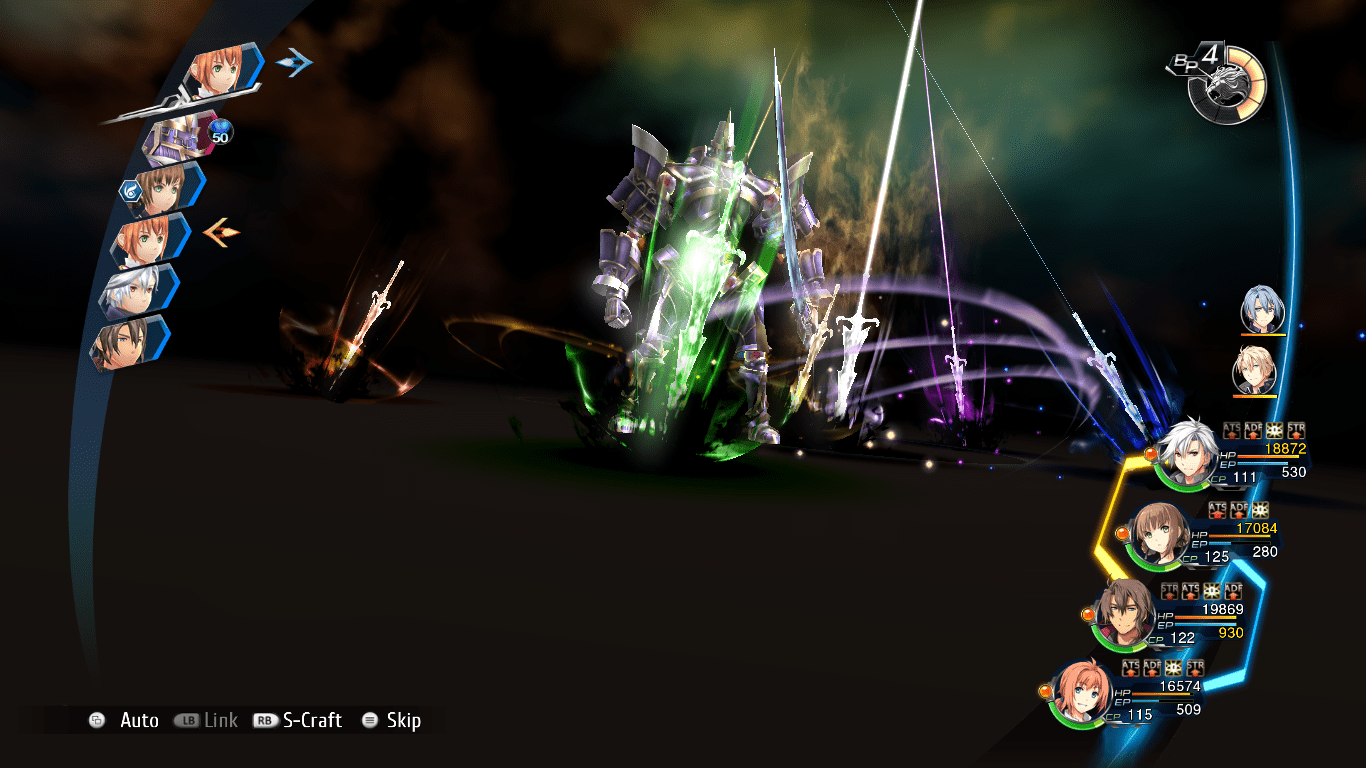 The exploration once again sees little shift aside from giving the player the ability to revisit most areas for the majority of the game's run time (RIP train travel, you are missed once again). Thankfully the developers seem to have learned from the repetitive feel of Cold Steel II because while you do revisit almost every major location from Cold Steel III, there are significantly more brand new areas to discover, including three extra towns to visit. Thus while dungeon crawls held less appeal to me here than in any other title, the overworld itself was way more fun to explore. The side quests you undertake also deserve mention, because most of them wind up feeling much more narratively engaging and less like filler thanks to the unique climate the country is in (my personal favorites took place in Crossbell). Perhaps the most disappointing thing about the exploration sections though had to be the bonding events, as any desire to focus on making platonic friendships is undercut by a major shift in focus to developing romantic relationships, with platonic ones being relegated to a group achievement that might as well be a secret more than anything. While I understand that dating was one of the aspects of this system which much of the series' target audience has interest in, it was still disappointing to see male characters who arguably needed the extra screen time get shafted at the last minute just to facilitate romantic tension with the female side of the cast. It really doesn't help that some of these relationships include student-teacher affairs and 'forbidden sibling romance' either…
Wisdom and Conclusion
As for what we can take away from these titles as Catholics, there's actually a pretty strong theme running through these games about perseverance in days of strife. The opening atmosphere from Cold Steel III only sinks deeper and deeper into uncertainty and fear, and yet the games avoid becoming misery fests. This is because the heroes never lose sight of the good they can do which is right in front of them, and believe that breaking through the darkness, however briefly, can have a profound effect on those who glimpse the light they once thought lost. In the same way, the issues we face in reality might not be so easily solved, yet I am reminded that the two greatest commandments are the love of God and neighbor. Sometimes we see the great ills of our world through this hyper-connected reality I am somewhat ironically using to send you this reflection, and subsequently think we have a great obligation to stop it, but it seems strange to think that we can affect things far away if we don't even have the strength to foster peace between ourselves and our neighbors. If we see an opportunity to help in great matters we should take it, but we must also be aware that the strength to prevail in such endeavors comes from settling smaller matters. If we can create harmony in our interior relationship to God and in our local communities, we can create harmony anywhere.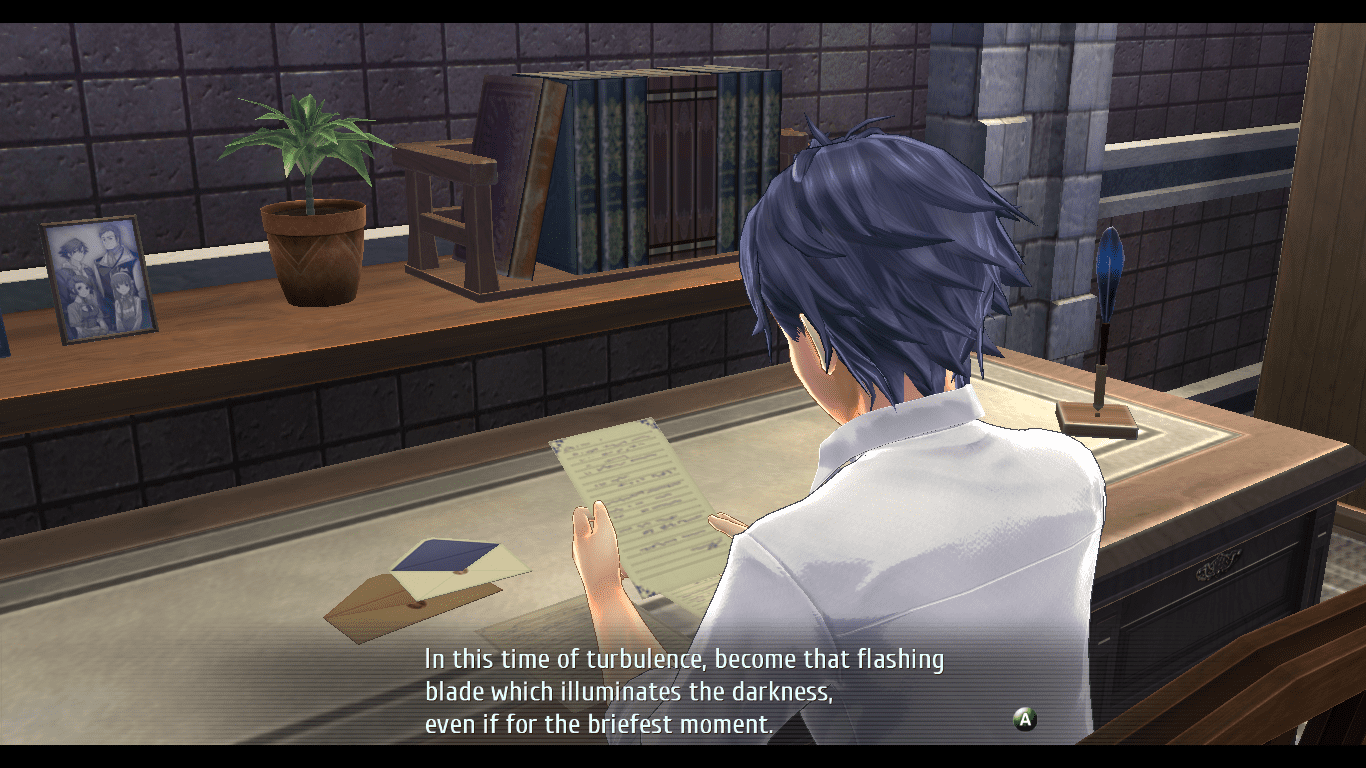 In conclusion, I found Trails of Cold Steel III and IV to occupy a strange place in my mind. While it never quite reaches the lows of the preceding games, they don't exactly clear the highs either. There are plenty of ways to argue that their more objective successes merit greater accolades, but some of their failures are just so grossly abject that I can't in good faith see them as strict upgrades from the first half. If you enjoyed the first two Trails of Cold Steel games (especially if you took the time and money to enjoy the Trails in the Sky trilogy to see more of the story, which I plan on playing sometime in the future) then these are some fine games to pick up on sale to form your own opinions on. If you aren't one of those people though, then whether you'll enjoy returning to Erebonia is definitely a matter of strict discretion. For my part it's hard to say I didn't have fun or feel like my time was wasted, but I just wish there was more restraint in several areas, the writing in particular. I don't regret my time with Class VII old and new, but standing here on the platform at the end of the line, I can't help feeling that our time together could have been so much more than it was, all things considered.
Scoring: 68%
Gameplay: 3/5
Art and Graphics: 4/5
Music: 5/5
Story: 2/5
Replayability: 3/5
Morality/Parental Warnings
Occult References: The Legend of Heroes: Trails of Cold Steel III+IV retains pretty much all of the supernatural elements from the previous entries. Magic continues to feature prominently, and the in-universe witches along with it. There is new information which recasts these witches as having a slightly more of a Glinda Goodwitch vibe, and subsequently making their hostility towards the Septian church (who are somewhat analog to Christians, but certainly not to be confused for them) from the previous games more of a misdirection, but that doesn't really take away from their overall aesthetic being a bit too witchy for my taste. Other elements such as reincarnation and fiendish curses also appear in the narrative. Rean's secret power is pretty much confirmed to be demonic in nature, though you aren't forced to use it most of the time. Some of the monsters are demons, and vampires also pop up. References to real-world mythology are present once again, though these extend mostly to names only. Black Alberich, a boss in Trails of Cold Steel IV, has two attacks named Satanic Claw and Luciferian Arc, though obviously the devil isn't actually in the Trails universe so it's really just there to beat you over the head that he's villainous. There is an unnerving fortune teller character who the characters seek information from on occasion.
Sexual Content: Sexualization of female characters also continues to be pretty common. Many of the character redesigns that appear feature much more skin than even what was seen in the previous games, with a certain Eclipse of Ouroboros being the most sexualized of them all, and younger characters aren't completely safe from this trend. There are a significantly higher number of "hot springs" scenes in these games, some of which feature mixed bathing, but at least characters wear towels in these scenes. There are not one, but two scenes wherein characters are quite explicitly groped. As mentioned earlier, sexual humor is very prevalent in Trails of Cold Steel III, and one of the new towns, Raquel, is basically Las Vegas. The games also have a strange fascination with questionable romantic relationships, such as relationships with a wide gap of age, same sex attractions, 'forbidden sibling romance', ect.
Assorted Warnings: Blood and wounds sometimes appear during cutscenes, but for battles they are reserved for very specific attacks and for the most part fights aren't terribly graphic. Some dialogue at the game's climax dips into common JRPG humanism platitudes, though this is unintentionally hilarious in practice because the villain isn't really the sort one would say this stuff to, on top of Rean and co. being almost exclusively made up of theists. Foul language is more common than in the previous entries, mostly thanks to Ash Carbide.
Want to help this website continue to create thoughtful reviews by faithful Catholics? Please head on over to our new Patreon page to support our efforts and gain some exclusive benefits like members-only stickers. Especially generous donors may even get the chance to request games for our team to write articles on! Help the Catholic Game Reviews express line keep delivering the goods on time today. All aboard!