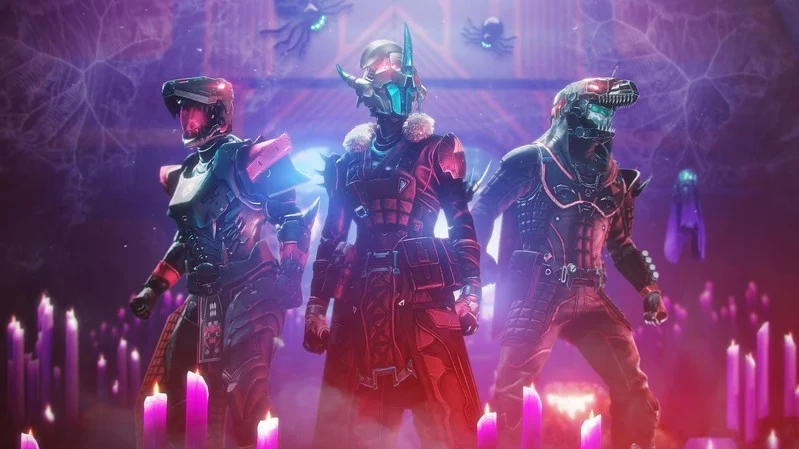 So you may be wondering what is the Festival of the Lost anyway? Well, similar to the holidays of All Saints and Souls days, the people of the Last City celebrate the lives of those who have died. It is a time of both great joy and sorrow for the people as they reflect on the lives of those they once knew. This is traditionally done by lighting candles much like the church does in prayer for the souls of the faithfully departed. However much like in the real world, the real purpose of the festival is overshadowed by Commercialization. This means that the tower is covered in spooky decor such as spiders, boarded windows, and ghosts. It also gives you an excuse to go collect candy with Glint at your side since Crow, as you know… is off contemplating life.
On to what you can do with all this candy, like every year, you'll be able to use it to buy some funny masks and other goodies from Eva. This year there are some hilarious masks up for grabs like the Honkmoon mask that will make your trick or treating feel worthwhile. There are also a bunch of cosmetics available in the Eververse store such as the new dinosaur themed armor that you can get for either bright dust (in-game currency) or Silver (real world currency).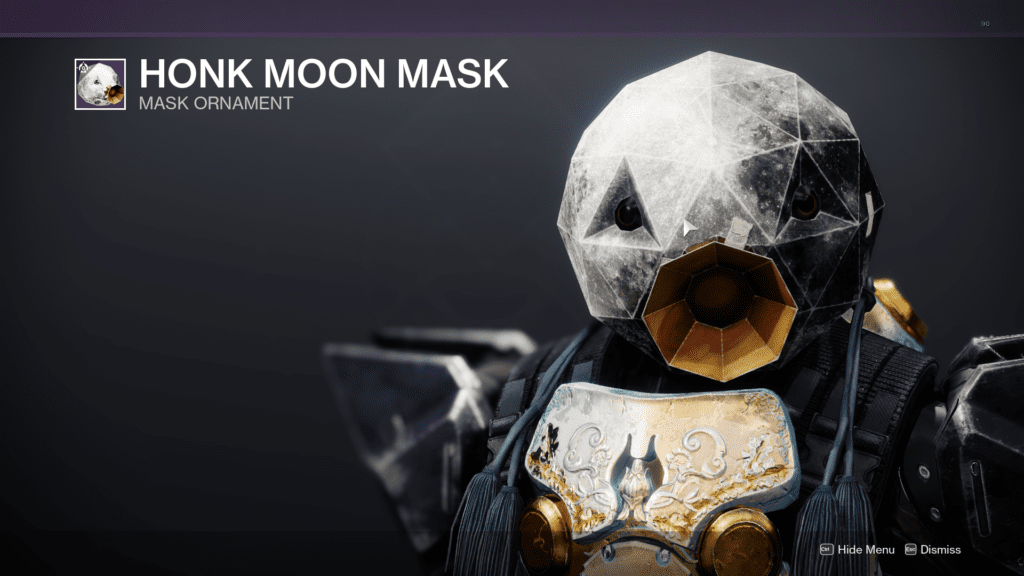 What about content wise? Well… since Mercury was thrown into the Destiny content vault, Haunted Lost Sectors have taken the place of the Infinite Forest. They are basically the same as normal lost sectors, except that there are now a bunch of Halloween decorations everywhere like giant spiders and bats. There are also new bosses named Headless Ones who are Hive Knights who have their heads replaced with giant jack-o'-lanterns. And once you kill one, you can use it's jack-o'-lantern as a bomb to take down the main boss' invincibility shield. As rewards you get a new weapon called the Jurassic Green (to fit in with the dinosaur theme) which is a rapid fire pulse rifle that can roll with some pretty nice perks like dragonfly. I managed to get a killing wind and unrelenting roll after playing a couple of rounds and it doesn't seem too shabby. There are also the returning Braytech Werewolf and Horror Story auto rifles whose 450 RPM isn't in the best place right now meta-wise, but are still solid choices.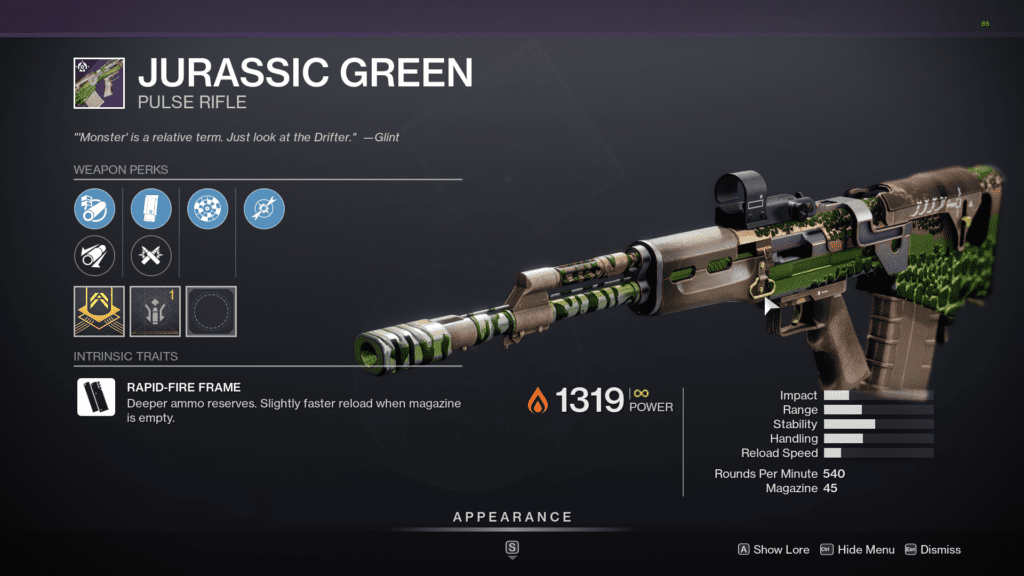 What makes this year's event special is that Bungie actually made some lore for the event that connects it to the larger story. In the Spectral pages you collect, you'll learn about how Glint is going around the universe trying to solve the mystery of the Headless ones (the Hive knights mentioned earlier). Throughout his investigation he slowly discovers that they were created by Nokris, the banished son of Oryx (that guy from the Warmind DLC). Glint is led to this conclusion when he discovers that the heads of a team of deceased guardians had been taken to Nokris so that he could strip them of their memories. From these memories, Nokris learns that Jack-o'-Lanterns were traditionally used as a way to communicate with the dead and believes that they will empower his necromancy. He also believed that using jack-o'-lanterns would serve as a symbol of terror toward humans. TLDR Bungie wanted an excuse to have jack-o'-lanterns enemies and they took it too seriously by making actual lore.  
Overall the Festival of the Lost is another small appetizer to hold us over until the release of the 30th Anniversary content that will be released in December. While the new lost sectors are cool, I don't really see myself playing them after I get some better roles on the weapons from them. The cosmetics this year are really nice, but I don't feel like spending money on armor that will be out of season in a couple months. I enjoyed that the event was tied into the seasonal story this time around as it makes the world feel more connected. It was also really cool that they created special lore for the event. It also has a nice spiritual connection in that the original purpose of the festival is to honor the dead much like the church does on All Saints and Souls days.  
Gameplay: 80%
Story: 4/5
Cosmetics and decorations: 5/5
Replayability: 3/5
Morality/Parental Warnings
Consumerism: Lots of cosmetics available for purchase with an overpriced real world currency. Practice self-control.
Occult: Given this is a Halloween event many of the emotes make references to the occult, witchcraft, etc. The story of this event involves the twisted experiments of a necromancer.
Violence: Some of this lore this season depicts some dark and chilling scenes such as the group of guardians being found without their heads.
(The score and morality sections are event specific and are not representative of the entire game, this section will be updated with a general overview if a Destiny 2 review is ever written for the site)